How to connect to your Facebook & Instagram page
Important note: You either need to be the direct admin and page owner of your Facebook Page, or you need to have admin access to the Business Manager Account that owns the page.
Instagram: If your Instagram account is connected to your Facebook Page, then we use your Instagram account in the ads. Here's a guide.
Step 1) Create a Facebook Ad to get the connection option.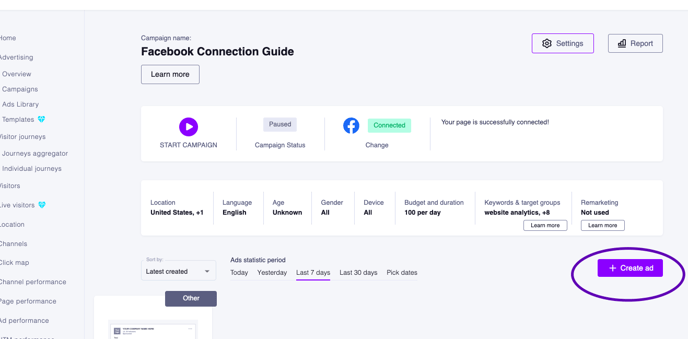 Step 2) Click "Connect to Facebook" in your Campaign settings.
Let the Adline App connect to your Facebook Profile to get access to your pages.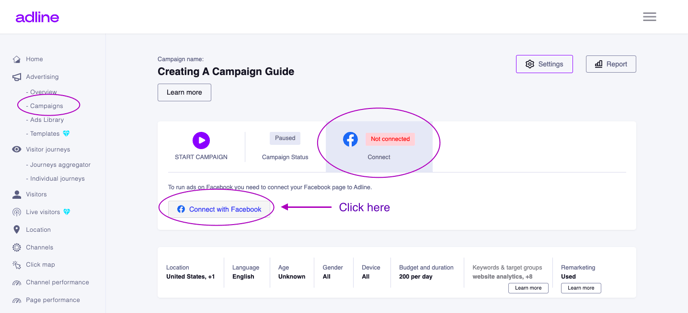 Step 3) You will then be redirected to Facebook.com. Accept the request and click OK.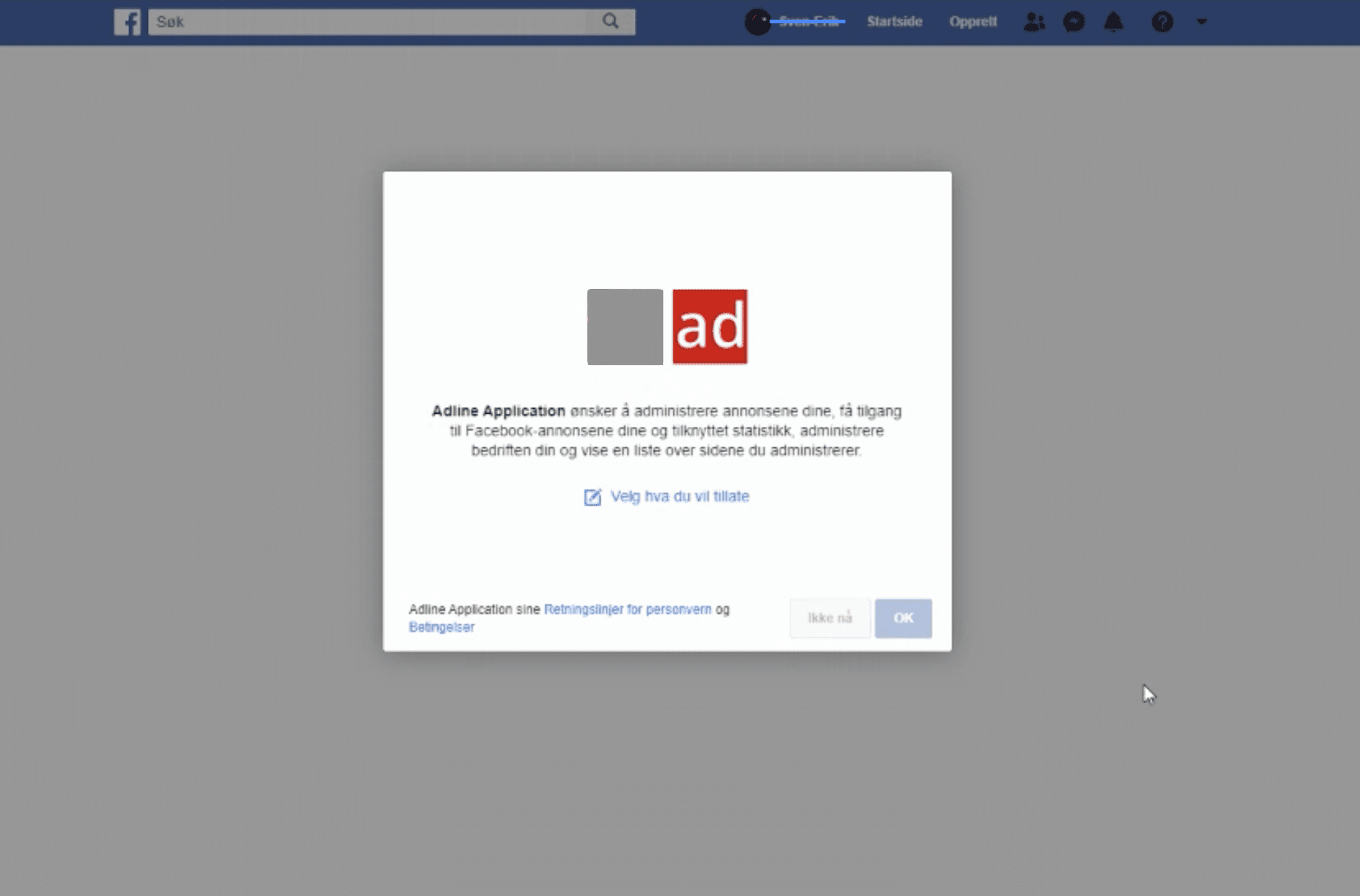 Step 4) Go back to Adline and click the "Connect to Facebook" again.
This time, you'll see a popup with all the Facebook pages you manage.
Step 5) Select your page and click "Choose page".
Adline will now send a request to your Page on Facebook.com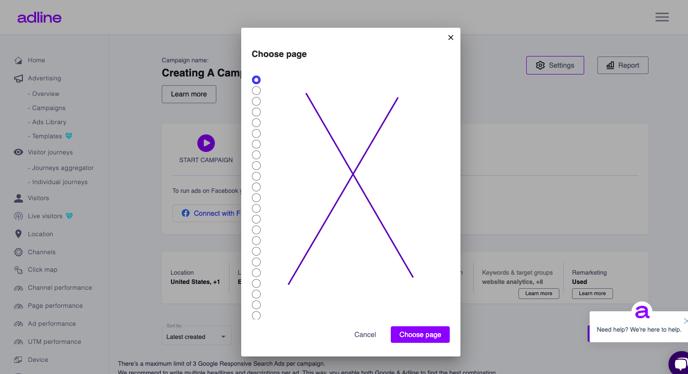 The connection now goes to "Pending", as in this screenshot…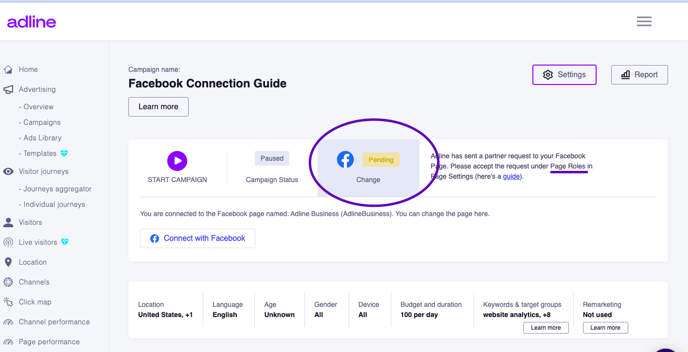 Step 6) Accept the Pending Partner Request in Facebook Page > Page Settings > Page Roles. See the image below.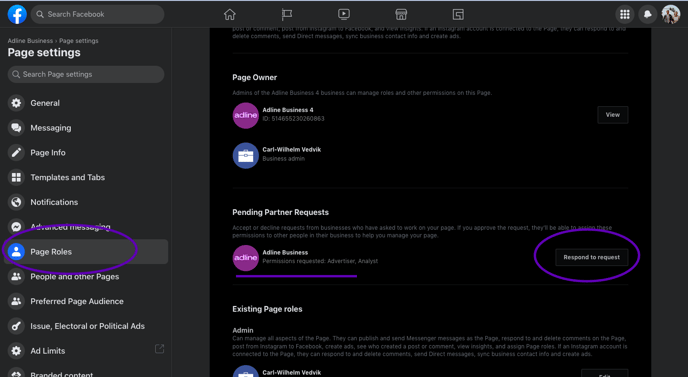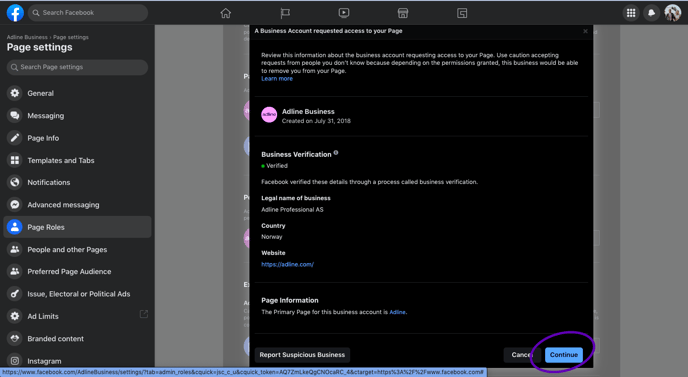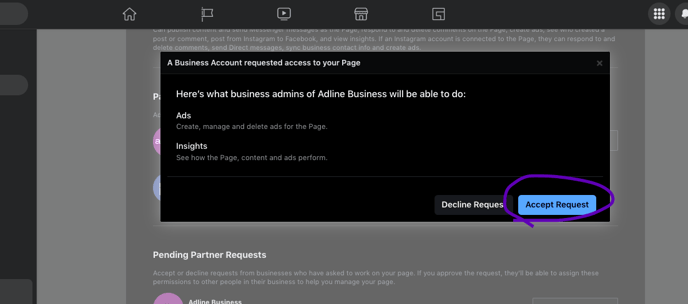 Step 7) Go back to Adline and start the campaign
P.S: Try start the campaign now. Sometimes you need to refresh or try selecting the page again and you should be ready to go!
If your page has a "Page Owner" (It's In A Business Manager Account)
As mentioned above, some Facebook Pages have a Page Owner (also called a Business Manager Account).
How do I know if my page has a page owner?
Go to your Facebook Page > Page Settings > Page Roles (same as above). Here you can see if your page has a "Page Owner".
If that is the case, you need access to this Business Manager Account to be able to respond to the Adline request. Here's step-by-step how to do it:
Follow the same process above (Step 1 to 3).
Go to "Business Settings" in your Business Manager Account.
Go to "Requests" in the left-hand menu.
Here you should be able to see the pending partner request.
Accept the request. Done.
Schedule a 1-on-1 support call.
If you still have questions or troubles, please schedule a call with us at Adline Booking or send us an email at support@adline.com. You can also chat with us on the Live Chat.