Do you have multiple brands, subdomains or clients you're working with? In Adline, you can easily manage sub-accounts from your primary account.
What's important to remember is that each account should have its own domain and email address. So be sure to add the correct one to your "Master Account". This should be your overall brand or company/agency.
NOTE: We are about to release a new agency/sub-account invitation structure.
Step 1: Create Your Master Account;
If you don't have an account yet, create your regular Adline account here 👉 https://prod.adline.com/auth/sign-up
Use your primary company/agency domain and email.
Verify your email and install the tracking script on your own website (if you are to advertise for your company).
Reach out to support@adline.com and ask to upgrade to Master Account (no extra cost).
Adline will now upgrade your account to a master account.
Step 2: Create Your First Sub-Accounts By Following These Steps;
Go to "Child Companies" in the top right-hand menu (or click here).

Note: This option is not visible unless your account is upgraded to a master account.

Copy the sign-up URL; this is the link you need to use to create your sub-account.

Important! Log out of your master account (you can't create a new account when you're already logged in).
Now, go to the link you just copied. Paste it into your browser.
Create your sub-account using the client's/project's URL and an unique email address.

PS: Many agencies create their own client email address. (e.g. clientname@agency.com).

Verify email and install tracking script on the website.
When you've done setting up this sub-account, you will find this account listed under "Child companies" in your master account.
Now you can use your master account to easily navigate between sub-accounts and manage their campaigns. Check the following screenshot;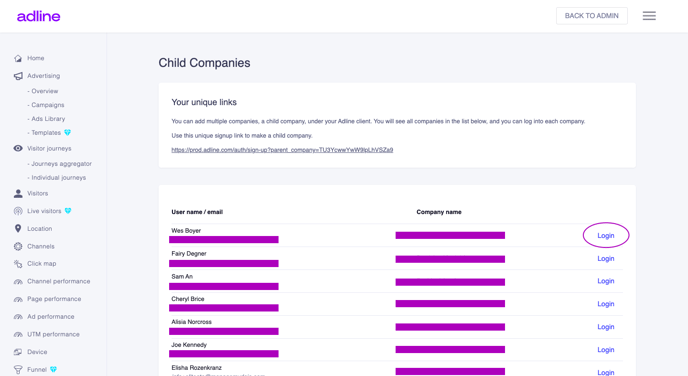 Special Pricing for Sub-Accounts:
Master Account: $159/mo
Sub-Accounts: +$29/mo

Contact support@adline.com for any questions.