A quick guide on how to define your target audience and how to reach them using Adline.
When running a multichannel campaign in Adline, you need to ensure you've set up the targeting for the chosen channels.
Let's use Google and Facebook as an example, and start by looking at one channel at a time, first from a bird's-eye and then the steps needed to set it up correctly.
Google Ad Targeting
By advertising on Google, you're reaching people that are actively searching for your products or services. In other words, people on Google can have a high buying intent. It all depends on the keywords you've chosen.
What keywords shall I select? There's two kinds of keywords; broad and long-tail keywords. Long-tail keywords are very specific search terms. For instance, "Pad thai restaurant near me" is a long-tail keyword, and will usually generate a higher conversion rate than "Restaurants near me" because it is more specific.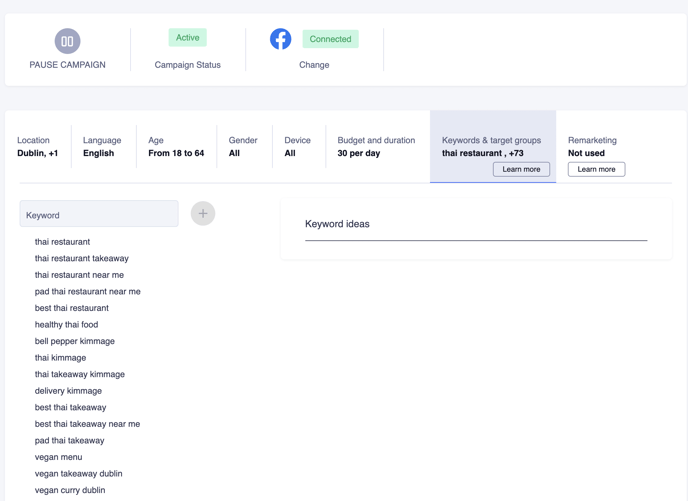 We recommend adding a minimum of 5-10 relevant keywords.
Start adding specific keywords such as the example above.
If you know that you're target market is pretty small, you can go with broader keywords.
You can also use broader keywords if your location is very limited.
Make sure that your ads and landing page matches the keywords you've added.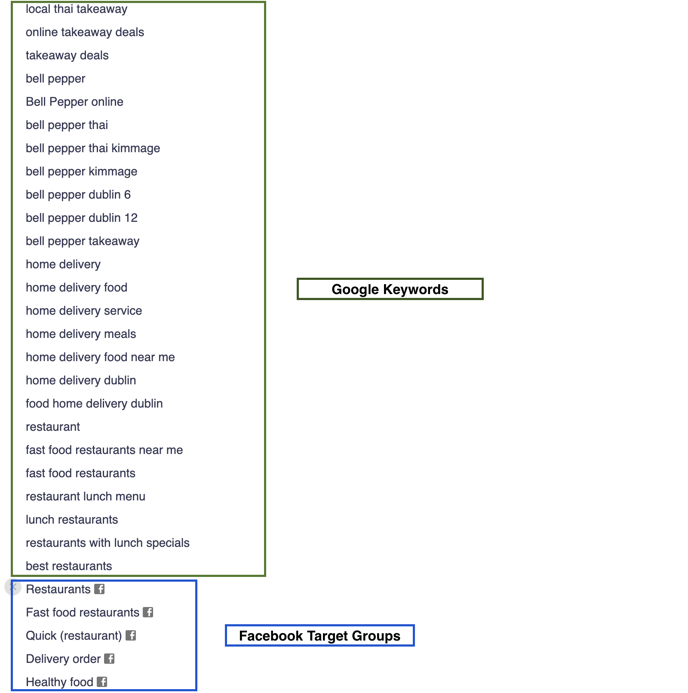 Facebook Ad Targeting
Although people use Facebook more for entertainment than for "information-gathering", you can reach people that recently have shown interest in what you have to offer. Remember that people are not using Facebook to be sold to, they're using it to be entertained and up to date with the world around them.
Here's how to best use Facebook targeting;
Make sure your ad content is interesting and entertaining, and has a clear call to action. The content determines a lot of the targeting. Hence, why you need to create ads that are original, genuine and interesting.
Add interest groups such as "law", "business", "sports".
Find relevant Facebook Pages you think your audience follows/likes. Facebook Pages can include big brands such as "Salesforce", "Nike", "Apple" etc., or newspapers such as "Business Insiders" and "New York Times".
Try to keep the Facebook audience a bit broad.
If you have Google Search Ads in your campaign, make sure to remove the brands you searched for when finding Facebook interests.
You've selected Facebook audiences when you see the "FB" icon after keywords.