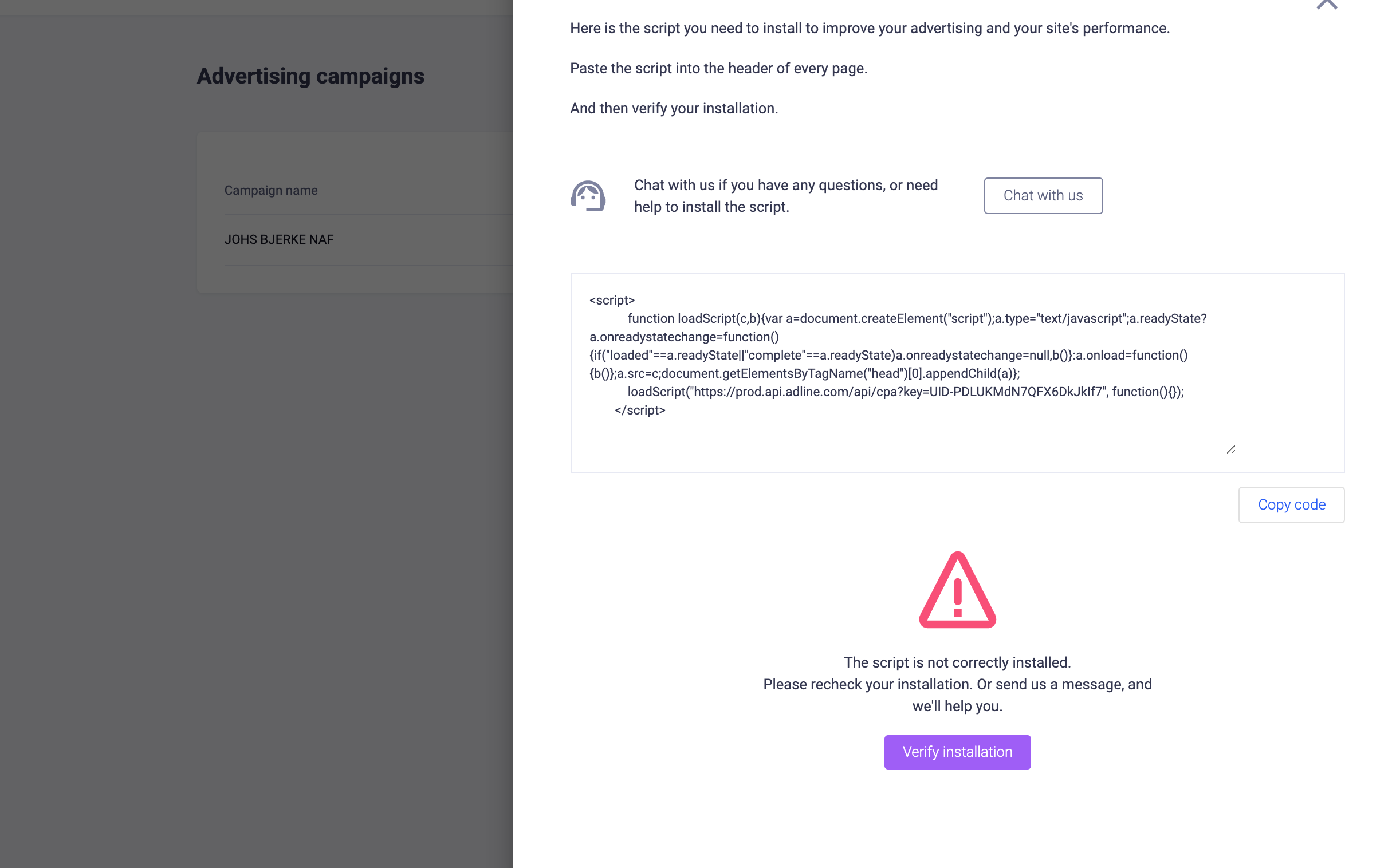 "I added my tracking code to the website, but nothing happens and the script won't be verified".
Quick fix: Just go to your website to "trigger" (activate) the tracking script. Please give the script a few hours to collect data and detect activity before troubleshooting the issue.
A connection is being detected when someone clicks a button or lands on a page on your website. If you have little traffic and you don't want to wait until you get new visitors to your website, you can simply just go to your page and click something. Adline should now be able to verify that the script is active.
However, there are a few reasons why the Adline script might be shown as inactive after you've installed the Tracking Code. Here are the common issues and how to resolve them.
Verification is still not working: Here are the common reasons
These are the top 6 common reasons why the verification is not working properly:
The Tracking Code has not been installed on your website. Solution: follow one of our installation guides to help you install the Adline Code.
The code was added incorrectly. Solution: Check if the script is placed inside the </header>. If you're using Google Tag Manager (GTM), check if GTM is active and if you've added Adline Tracking Script correctly as a "tag". If none of this is the case, please check if your website is using some kind of tracking blockers.
Little to no activity/traffic to your website. Solution: Adline verifies the tracking code as being active when we identify at least one visit after the code was added – often within in an hour. If your site hasn't had any visitors within the past hour(s), you need to visit your website yourself and click something.
You installed the tracking script on another URL. Solution: If you have multiple pages, check if you installed the script on the correct website. Try to verify again.
Website redesign: Often when a website has been redesigned completely, the tracking codes on your website may have accidentally been removed. Check if the tracking code is still in the <header>. If not, reinstall the code and verify.
You're using a 3rd party landing page builder: Sometimes the homepage is built with let's say WordPress, and you're landing pages/subdomains are built with a 3rd party funnel builder like Clickfunnels, Kartra and LeadPages. Make sure the script is installed there as well.
Double <script> tags: Some 3rd party tools is already using <script> & </script> inside their Advanced Settings / Custom Script sections. This means that if you copy/paste the complete Adline script, you'll notice that there's suddenly double script tags – see screenshot below. Solution: Remove <script> & </script> from the Adline Tracking Code.

No results found